With the upgrade to Backlight 3, I took the time to refresh my site a bit. One of the most obvious changes is the switch to a dark theme: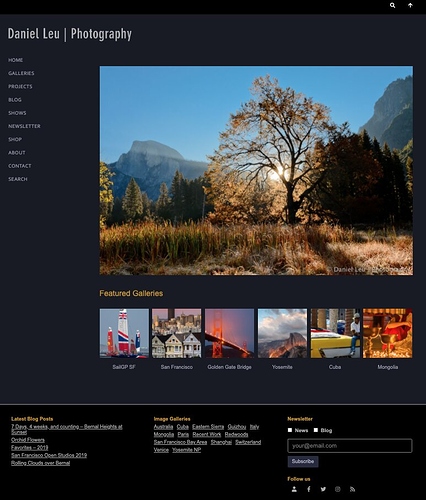 Summary of customizations
Dark theme
Updated Backlight search page to include blog search results
Separate tabs for photos, albums and blog search results
Added logo in top palette that is revealed upon scrolling
Added breadcrumbs to all non album and album-set pages (How to link)
Custom footer with links to latest blog posts (How to link)
Modified menu to show sub-menu when page is on a sub-menu
Custom slideshow on Backlight gallery pages so I can have the regular gallery view with a little slideshow to provide more content (Example, how to link)
Customized single-page view (Example)
Keyboard support on single-page view (How to link)
Jump to top link in top palette
All this and more at DanielLeu.com.
Coming soon, or eventually

Use Backlight gallery images in blog posts including buy button
Theme switching
All my customization use the phplugins API, custom CSS, and/or javascript. Over on lab.danielleu.com I post regularly about Backlight customizations. Follow my dedicated RSS feed for the latests posts.
If there is a subject you'd like to be addressed, please let me know.
Cheers, Daniel
---
Backlight Tips&Tricks: lab.DanielLeu.com


DanielLeu.com | @danielleuphoto