I've been doing Open Studios in San Francisco for many years, but 2020 is a big challenge since the event moves to a virtual platform.
To better guide visitors on my site, I've decided to create a dedicated single page microsite. This means that selecting a menu item just jumps to a different location on the same page instead of reloading a new page. With this structure, it is easy to scroll through the entire site! While scrolling, I update the active menu entry based on the current page location.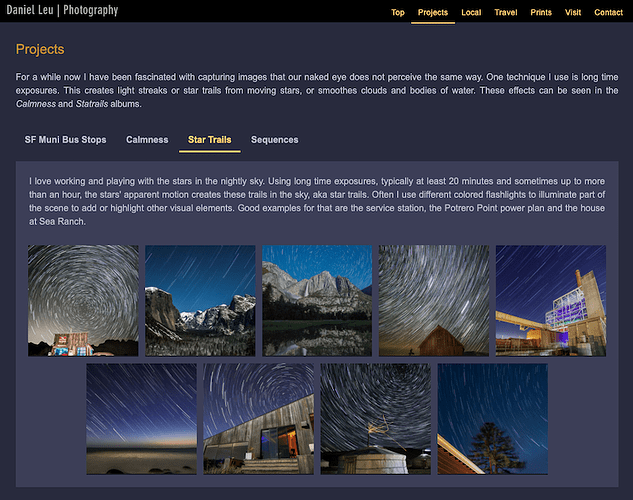 In the past, it wasn't possible to have more than one Backlight gallery on a page. But with the JSON API introduction with Backlight 3, this is a thing of the past. Although it took a lot of work to get this done, specially the cart support, it can be done. The JSON API is really great and I hope that it will be enhanced in the future. FYI: I currently have 12 galleries and didn't notice a performance issue.
To avoid an endless sea of galleries, I created a tab structure. I think this provides a nice user interface and doesn't overwhelm the visitor too much and still shows my work. But I have to admit that the desktop version looks way better than the mobile one. Something I have to spend more time on.
Summary of main features:
Single page web site
Using JSON API to add multiple galleries with shopping cart support
Tabbed sections
Menu highlight per active section
Move to top button on desktop
And many little things…
My microsite: https://danielleu.com/sfos.php
The page/site is still in development and a few other features will be added. So you might want to come back in the future.
Oh, if you find a bug, please let me know! Thanks!
Cheers, Daniel



---
https://lab.danielleu.com is where I share my Backlight tips&tricks with the main focus on phplugins. There is an RSS feed too!