I just received this message from my web hosting service:
Our administrators have detected that the website regularly receives CPU faults and also I / O faults (see below).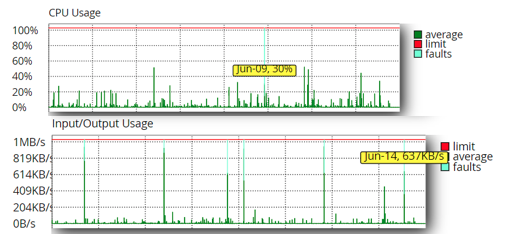 It can be due to many reasons, malware / viruses / bots / unoptimized scripts / heavy images etc.
When these spikes occur, it means that your visitors cannot access the website properly (for example, they may experience huge load times or a complete inability to open the site). It also exhausts the system and can endanger other users.
In this regard, it is extremely important that we resolve the issue as soon as possible.
They go on suggesting I subscribe to a VPS at a much greater cost to me, as much as 4 times what I am paying.
Being self-taught (with a lot of help from Ben, Rod and Matthew), not only don't I grasp fully what is happening, I don't know what to do.
Any ideas?